Ⅲ、On-site program
Equipment
GD-20 multi-channel workstations , GPR instruments and RTK.
Cable configuration
Reasonable layout of survey lines is an important factor in obtaining high-quality data. This time, combined with high-density resistivity method and ground penetrating radar method, geophysical exploration technology is used to detect large areas of suspected soil pollution distribution, and a total of high-density electrical method is deployed. The effective length of 54 lines is 8772m, which can provide complete underground information for the owner for the basic conditions of the scope, depth, abnormal signal area, pipeline orientation and buried depth of the work area.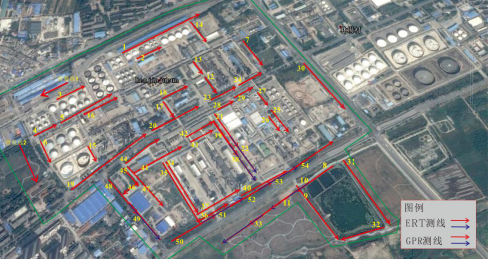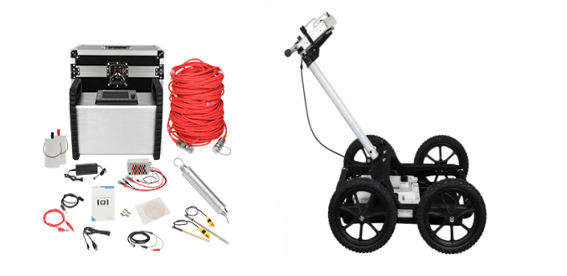 Electrical resistivity tomography
The resistivity method is a geophysical method based on the difference in dielectric resistivity. The detection principle of the DC resistance method is to establish an artificial electric field by using a direct current to pass a pair of current poles A and B into the ground. By the difference in conductivity between the interlayer media, another potential pair M, N can be used to measure the potential difference between the electric field between M and N, thereby obtaining the apparent resistivity of the formation and estimating the underground formation. Conductivity distribution.
Ground penetrating radar
When measuring high-frequency electromagnetic wave reception, a continuously digitized waveform is used to describe the shape of the different two-dimensional reflection profile of the underground material due to the difference in dielectric constant.