1D Resistivity or IP
In 1D VES survey, transmission up to full power 9000W (±1500V*±6A) can be emitted to allow excited pulse signals to reach deeper strata. For small signals, up to 255 stacking amounts are allowed to enhance measurement accuracy. Prior to field testing, measurement array configurations and the electrode scanning parameters can be inputted into the monitoring host, thus reducing the time spent in field to enter the survey parameters and increase survey productivity.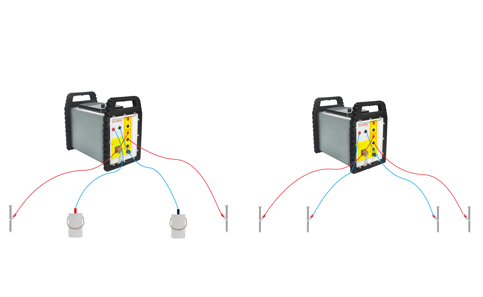 Supported 1D arrays :
1) 4 Pole-VES
2) Composite Profiling
3) Dipole VES
4) 3 Pole-VES
5) Mid-grandient
6) Customized arrays
2D ERT or IP Profiling
GD-10 ERT system is capable of conducting 2D cross-section profiling of ERT and IP in field.Through the array script management in Geomative Studio, clients can predefine survey parameters on PC prior to field surveys. Up to 3200W (800V*4A) transmission power can be deployed in field. GD-10 is equipped with both centralized cabling and distributed cabling system, to fulfill any complex field environment.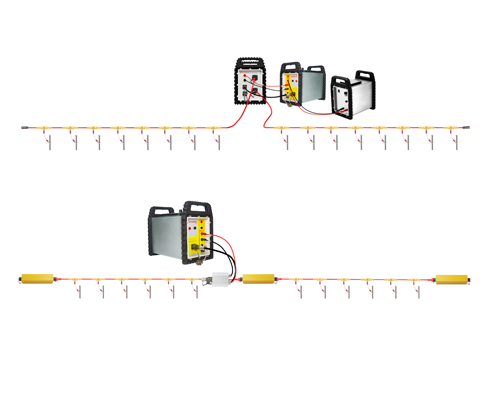 More survey layout solutions:
1)Conventional ERT(5 Takeouts Dual-direction Cable)
2)Conventional ERT(10 Takeouts Cable)
3)GD-10 Advanced 2D,Conventional ERT
4)Conventional IP
5)Dual-takeout ERT Survey
6)Dual-takeout IP Survey
Automated stacking for data quality enhancement

During the data measurement process, GD-10 automatically analyzes signal strength and data quality to determine whether long measurement period and stacking mode should be activated. For sites with strong signal and good data quality, measurement system continuously sweep and scans in high efficiency mode until bad data quality is detected, in which long measurement period or stacking mode would be elaborated to enhance data quality to the maximum extent. Clients can also set stacking amount according to any survey points, survey layers or individual tasks.
Unique sectional centralized mode of GD-10 measurement system
GD-10 series is designed with unique sectional centralized survey layout mode. This technique fully integrated the advantages of both conventional centralized cabling system and distributed cabling system, incorporating the advantages of simple cabling placement and long profiling survey from distributed system, and the simple, reliable and low-cost characteristic from centralized cabling system.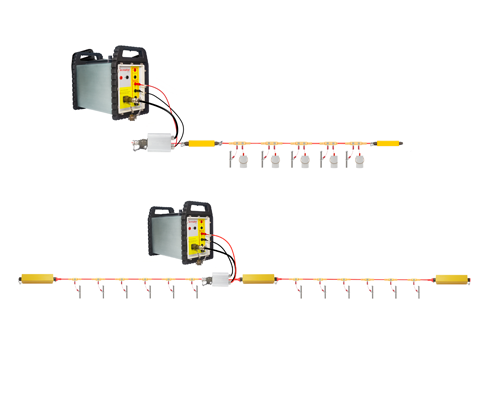 Multidimensional data display, Discover and deal with all issues on-the-spot, instant positioning
Monitoring host instrument provides extremely rich software functionality, to assist clients in handling issues and adjusting settings under different field applications. This allows the data recording of various ambient data and survey procedures in a fashion as real, complete, objective as possible. Detailed functionalities are as follow:
1)Scatter plot illustrates the R0 oscillation degree of each layers to directly determine data quality
2)Voltage-current plot of each survey points can be examined. Attenuation curves are shown for IP surveys and evaluate data quality through the curves.
3)R0 profiles is shown and markers can be manually edited for easy observation.
4)Main interface displays I, V, R0, η, M, the electrode locations of A, B, M and N. The bottom grayed interface shows the grayscale bar of V, I, R0, standard deviation at any specific survey locations. Total survey points, remaining survey points and estimated time remaining are also displayed during data acquisition.
Rich array database and customized array scripts
1)Different geophysical exploration may encounter vast difference in their survey objective, environment, approach, response signal and so on. Survey methods should hence be robust and flexible enough to tackle all possible scenarios. Based on programmable and customizable survey concept, Geomative introduced survey scripting method, enabling clients to plan detailed survey configurations, electrode location and stacking amount, prior to their field surveys.
2)After array configuration is selected, Geomative Studio automatically generates survey script according to array required electrode location relationship. Clients can preset filter conditions to pinpoint the targeted region. Monitoring host skips trivial survey points during field survey and only measures data points within the targeted region, which would effectively shorten the overall measurement duration efficiently.
3)Stacking amount can be defined in the scripts by survey points or layers. Measurement can be conducted faster for stronger signals at shallow layers without any data stacking. As for deeper layers with weaker signals, data stacking amount is required to enhance survey accuracy. Survey point measurement sequence adjustment to increase the survey interval between neighboring survey points can reduce the noise interference between the neighboring points. If customized survey configuration is required, the array relationship of electrode locations can be fully defined by clients by using Microsoft® Excel to edit survey point configuration and perform customized measurements.
4)Support self-defined scripts and script cropping
5)Support three types of array survey method, including survey by layer, roll-along survey, survey by interval skipping.
6)Comprehensive standard array database, including Wanner, Schlesinger, Wanner-Schlesinger, Pole-Pole, Pole-Dipole, Dipole-Dipole, Cross hole Dipole-Dipole,Dipole-dipole arrays and so forth.
Powerful roll-along survey, 3D and pseudo-3D profiling
1)Roll-along testing, no repeated survey points, robust roll-along approach and highly efficient.
2)Efficient pseudo 3D mid-gradient profiling.
3)Distributed 3D survey , separated transmitter and receiver to achieve high current survey.
Takeout skipping at equal intervals, empty multiple arbitrary takeouts, automatically remove defined survey points, achieve large-spacing survey using small-spacing cabling layout
1)Takeout skipping function can be used to increase survey spacing, up to four takeout spacing skipping is supported.
2)When arbitrary takeouts cannot be connected to electrodes or is broken, takeout skipping function can be activated to resolve this issue to prevent anomalies in measured datasets.
| | | | | | |
| --- | --- | --- | --- | --- | --- |
| | Basic | Senior | Advanced、 | Supreme2D/3D | Supreme2D+/3D+ |
| Electrical resistivity sounding | ✔ | ✔ | ✔ | | |
| Upgrade-able firmware | ✔ | ✔ | | | |
| IP sounding | | ✔ | ✔ | ✔ | ✔ |
| SP | | ✔ | ✔ | ✔ | ✔ |
| Maximum Tx of 1500V*6A | | ✔ | ✔ | ✔ | ✔ |
| Centralized ERT 2D/3D | | | ✔ | | |
| Electrical resistivity sounding,2D/3D Profiling | | | | ✔ | ✔ |
| Distributed ERT (single takeout cabling) | | | | ✔ | |
| Distributed ERT (Dual takeout cabling) | | | | | ✔ |