Ⅳ、Electric method working principle
1.Electrical Resistivity Tomography Works

The resistivity method is a geophysical method based on the difference in dielectric resistivity. The detection principle of the DC resistance method is to establish an artificial electric field by using a direct current to pass a pair of current poles A and B into the ground. By the difference in conductivity between the interlayer media, another potential pair M, N can be used to measure the potential difference between the electric field between M and N, thereby obtaining the apparent resistivity of the formation and estimating the conductivity distribution of underground formation.
Advantage
· Deep depth, small terrain effect
· Graphical representation of underground structures
· Can be applied to well investigation
· 2D, 3D, 4D analysis
· More specific quantitative indicators
· Resistivity 20% or more difference with high resolution
· Can be combined with other electrical surveys
Disadvantage
· Have a certain in-line or lateral interference effect
· If the background value is too similar to the target resistivity, the identification is difficult.

It is often presented as a cross-sectional equivalent image. Physical units often use resistivity (ohm-m) to represent different levels of color with different tones.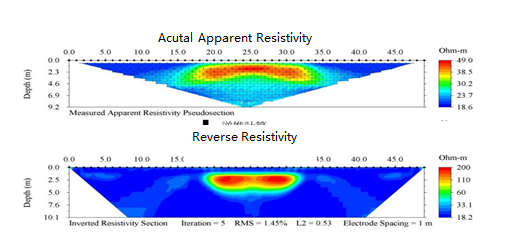 2.Electromagnetic Works
The main method of induction electromagnetic method (EM) is frequency domain electromagnetic method (FDEM), which generates an induced magnetic field in the formation through the instantaneous current of the coil, and calculates the apparent conductivity of the material by recording the phase difference of the secondary magnetic field. In a fixed case, the two-dimensional tangent plane distribution of the conductivity of the material at a specific depth can be delineatedt.
Advantage
· Quick test
· Single-player and GPS
· Completely lossless
· Suitable for large-scale screening
Disadvantage
· Comprehensive conductivity measurement
· Measurement depth is limited by frequency
· Urban measurement is susceptible to interference
· Unable to identify specific types of pollutants