Ⅳ、Conclusion
Based on prevailing hydrogeological conditions and results of geophysical surveys it is concluded that many underground cavities/water pools/reservoirs namely Sadwa Gufa, Arjun Kund, Patal Ganga, Bhimkund, etc have indicated the strong weathering/karstification in limestone rock in the study area. The overburden comprised of weathered limestone or weathered granites ranges down to the depths of 5 to 30 m bgl. It is found that due to fluctuation in depths to water level in prevailing cavities, it is felt that these cavities may be directly getting recharged through groundwater as well as some of the cavities may be getting recharged directly through surface water bodies or drainage/rivers exist in the area.
The ERI survey of a Bada Malehra and Buxwaha block of Chhatarpur district, Madhya Pradesh revealed several `low' and `high' resistivity regions have been interpreted as clay/water- filled voids and dry cavity in a karst terrain. Exploratory boreholes drilled in the area revealed numerous cavities and verified the resistivity measurements with overall accuracy. Also, the resistivity models obtained over the known cavities and the field survey results demonstrated the efficacy of Wenner α array ERI method in subsurface cavity mapping. The drilling result validated cavity location and existence delineated by the geophysical technique and lent credence to its manifestation in karst terrain.
It has been observed that there are some famous limestone cavities like Pandav caves (near Panna) and Gupt Godavari (near Chitrakoot) in nearby region. These famous cavities have been plotted on Google map along with the major cavities present in study area (figure 10). It is found that the cavities present in study area are falling in the same southwest northeast line of Gupt Godavari. The Google map is showing the same geological features/lineaments all along the southwest northeast line. It is also marked that the general elevation of study area is around 401 m amsl while the elevation of Gupt Godavri area is about 212 m amsl. Similar geological features of all these cavities all along the line may be indicative that the Arjun Kund, Patal Ganga and Bhimkund cavities may have some relationship with Gupt Godawari cavity.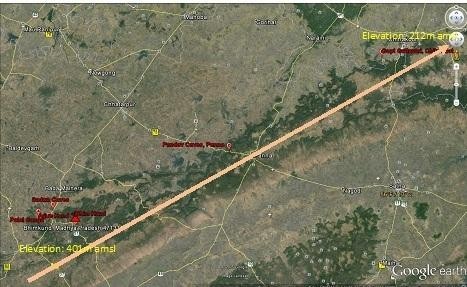 Figure 10: Major cavities marked over Google image scattered over same google textures falling in the parts of Chhatarpur, Panna and Satna districts of Madhya Pradesh.
Acknowledgements
The author is grateful to Shri Parvinder Singh, Regional Director, Central Ground Water Board, North Central Region, Bhopal for assigning the investigation and providing the necessary facilities. We are thankful to Late Shri M C Gupta, Dr Bijendra Baghel and Dr Satish Patel of GWD, Govt. of MP for their continuous support during field investigations. We fully acknowledge the support of all Scientists of North Central Region and Engineering Division XII. Of CGWB
References
Andrej, M. and Uros, S. (2010). Electrical resistivity imaging of cave Divasˇka jama, Slovenia. Journal of Cave and Karst Studies, v. 74, no. 3, p. 235–242. DOI: 10.4311/2010ES0138R1 Barker, R.D. (1989). Depth of investigation of collinear symmetrical four-electrode arrays. Geophysics, 54, 1031-1037.
Cardarelli, E., Marrone, C. & Orlando.L. (2003).Evaluation of tunnel stability using integrated geophysical methods. Journal of Applied Geophysics. 52, 93-102.
CGWB (2009). Groundwater brochure of Chhatarpur district.
CGWB (2015). Dynamic groundwater resources of Madhya Pradesh as on 2011.
Dobecki, T. L. and Upchurch, S. B. (2006). Geophysical applications to detect sinkholes and ground subsidence. The Leading Edge.
Friedel, S., Thielen, A. & Springman, S.M. (2006). Investigation of a slope endangered by rainfall-induced landslides using 3D resistivity tomography and geotechnical testing. Journal of Applied Geophysics. 60,100-114.
Loke, M. H. (1997, 1999, 2000). Electrical imaging surveys for environmental and engineering studies A practical guide to 2-D and 3-D surveys.
Roman, I. (1952). Resistivity reconnaissance, in Symposium on Surface and Subsurface Reconnaissance, Philadelphia, American Society for Testing Materials, Special Technical Publication 122, p. 171–226.
Suzuki K., Toda S., Kusunoki K., Fujimitsu Y., Mogi T., Jomori A. (2000). Case studies of electrical and electromagnetic methods applied to mapping active faults beneath the thick quaternary.Engineering Geology 56, 2–45.
Thakur, G. S., Ushmani, H.U. and Gupta, S. K. (2010). Bhimkund and Arjunkund dolines, Chhatatrpur district, Madhya Pradesh. Journal of Geological society of India, Vol. 76, Issue 4.
Wijesinghe, W.M.,Loke, M.H., & Nawawi, M.N.M. (2004). A comparison of different arrangements of Wenner array using 2D Electrical Imaging Method. Seminar Geofizik 2004. ESSET, Bangi Selangor.
Zhou, W., Beck, B.F., and Adams, A.L. (2002). Effective electrode array in mapping karst hazards in electrical resistivity tomography: Environmental Geology, v. 42, p. 922–928. doi:10.1007/s00254-002-0594-z.