Ⅱ、Survey analysis
Study area
Chhatterpur district is located in the central part of Bundelkhand plateau in Madhya Pradesh. It forms the northern boundary of the state. The investigated area confined to the part of Bada Malhera and Buxwaha blocks of Chhatterpur district, Madhya Pradesh. As per groundwater resource estimation report (CGWB, 2015) both block falls under semi critical category. The location map of study area is shown in figure 1.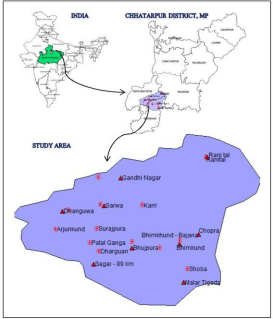 Figure 1: Location map of study areaThe area is infested with several huge underground cavities/water pools namely Bhimkund, Sadwa Gufa, Arjun Kund, Patal Ganga, etc. These caves are unique in a way that they were further modified in irregular dimension and shape due to collapse of ceiling subsequent to the `solution' activity of carbonate rock formation. Bhimkund (24.4384760N, 79.3761220E) is a natural water pool (Kund) located near Bajana village. It is reported that the depth of Kund is not measurable beyond 80 m bgl and the water level was at about 30 m bgl (February, 2015). It is reported that, depending on rain, during post monsoon seasons water level raises up to 15 -20 m bgl. The colors of water of kund look like indigo blue. A motor pump is permanently fitted for drinking water and some motor pumps are being temporarily fitted to draw the water for irrigation. Arjunkund (24.45650N, 79.207138890E) is a natural underground water reservoir located near Pipariya Kalan (Near Dhanguawn) village. Flat looking immeasurable reservoir has been created in the cave and water level is at about 20 m bgl from the entry to the cave (February, 2015). Going more than 50 m in cave, it appears that water is spread over very large area and look like an underground lake. It is reported that, depending on rain, during post monsoon water level raises up to 10 -12 m bgl. Some motor pumps are temporarily being fitted to draw the water for irrigation. Patal Ganga (24.4398060N, 79.253830E), a natural enclosed depression of carbonate rock is located near Darguawan village (left of Sagar – Chhatarpur road). The entry to the cave is tough and about 10 m iron's ladder is fixed for entering. Going about 100 m in cave, it is found that water is spread over very large area and look like an underground lake. During post monsoon water raises to upward. Sadwa Gufa (24.485440N, 79.272720E) is a natural enclosed depression in carbonate rock and is located in a hillock near village Sadwa (left of Sagar – Chhatarpur road). It is dry cavity and there is no water available except during rainy season. Photographs of these cavities are shown in figure 2.

Figure 2: Photographs of some major cavities present in study area.GEOLOGY AND Hydrogeology
Physiographically the Chhatarpur district has been divided broadly in to three main geomorphic units ie. Panna range, the central plateau and northern plains. Archeans are overlain by Bijawar and Vindhyan beds which are highly folded and are also dissected by the superimposed drainage system. About 65% of the district is occupied by Bundelkhand granite in northern & north central part with a thin soil cover. The granite is pink in color, medium to coarse grained porphyiatic in texture. It is very hard & compact with well developed joints. The depth of weathering is as high as 20m in areas where the granite is coarse grained and well jointed (CGWB, 2009; Thakur, 2010).
Bundelkhand granites are overlain by the rocks of Bijawar series. The exposure of Bijawars triangular in shape and constitute about 15% of the south eastern part of the district. The Vindhyans are exposed in the form of NE-SW trending strike ridges and alternating valley in the southern part of the district these occupy about 20% of the district areas represented by conglomerates, sandstone, shale and limestone in a sequence. The hydrogeological map of study area has been shown in figure 3.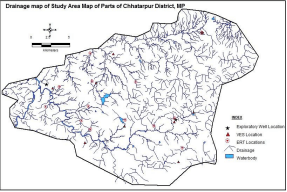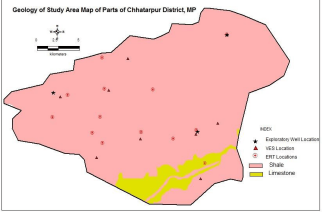 Figure 3: Drainage and geological map showing the location of geophysical surveys and exploratory borehole.Limestone rocks are a class of sedimentary rocks composed primarily of carbonate minerals. The two major types are limestone, which is composed of calcite or aragonite (different crystal forms of CaCO3 and dolostone, which is composed of the mineral dolomite CaMg(CO3)2. Calcite can either dissolved by groundwater or precipitated by groundwater, depending on several factors including the water temperature, pH, and dissolved ion concentrations. Calcite exhibits an unusual characteristic called retrograde solubility in which it becomes less soluble in water as the temperature increases. When conditions are right for precipitation, calcite forms mineral coatings that cement the existing rock grains together or it can fill fractures. Karst topography and caves develop in carbonate rocks because of their solubility in dilute acidic groundwater. Cooling groundwater or mixing of different ground waters will also create conditions suitable for cave formation.
The principal water-yielding aquifers in the study area can be grouped as unconsolidated weathered aquifer, semi-consolidated fractured aquifers, carbonate-rock aquifers, aquifers in inter-bedded sandstone and carbonate rocks. Aquifers in carbonate rocks are most extensive in the study area. Most of the aquifers formed in cavernous limestone yield good water. The water- yielding properties of carbonate rocks vary widely; some yield almost negligible water and are considered to be confining units, whereas others are the most productive aquifers in the study area. The cavernous limestone forms the shallowest principal aquifer in the study area. Where carbonate rocks are exposed at land surface, solution features have created karst topography, characterized by little surface drainage as well as by sinkholes, blind valleys, sinking streams, and mogotes.
Ground water in investigated area is mostly under water table conditions and its occurrence is controlled by extent, size and interconnection of cavities and degree of weathering which varies from place to place. The depth to groundwater level in study varies from 12 to 20 m bgl during post and pre monsoon period. The groundwater electrical conductivity (EC) ranges from 560 to 680 µS/cm. According to Bhumkund exploratory boreholes data there is shale from 0-3 m, sandstone from 3-25 m, 25 – 32 m shale, 32 – 42 sandstone and 42 – 89 m fractured and compact limestone. The exploratory boreholes in study area yielding 2.5 to 18 lps water discharge.